Printed (Paper) Resources
Free Downloads for Putz Building, Displaying, and Restoration!
This page includes links to free, downloadable resources you can use to restore or build cardboard putz houses and accessories.
Printed (Paper) Resources: Our printed door and window resources are replicas of art that was printed on paper (including translucent "onion-skin" paper) and applied to putz houses and candy boxes. We developed these replicas to help you restore vintage putz houses and create your own structures. For best results, use a colored laser printer and laser-printer-safe, acid-free material. Ink-jets will work, but they don't work as well. If you want to download the page you need to a thumb drive and take it to an office supply store to print, you'll probably be glad you did.
If you're really in over your head with this, our friend Pete Oehman, proprietor of CardboardPutzHouses.com, has professionally-printed versions available for sale. Pete also has gold-ink-on-mylar windows that are direct replacements for your old, brittle, punched-out or missing cellophanes. For more information, check out Pete's Marketplace page.
All graphics on this page are copyrighted. You are allowed to download these files and print them (or have them printed) for your personal use. You may also use these graphics when making original putz houses to sell. However, you are not permitted to resell the graphics or republish them in any form without first contacting us for written permission.
For best results, use a color laser (if you don't have one, take the file and the paper you want to use to an office supply store and use theirs).
Note: Some kinds of vellum react in wierd ways with water-based glue. Howard Lamey posted a way to get around that on this forum.
The graphics we have available so far are:
Printed Stained Glass Windows - These are high-resolution original reconstructions of vintage paper windows used in many different houses over the years. For best results, pr
int with a color laser printer on something translucent like "vellum." The set to the right includes the
most common colors.
Putz house designer Howard Lamey used a few in a recent church project, shown at the left. If you want to see a big version of the photo, click on it. If you want to see more about this project, please visit this forum.
To download the graphics and try them yourself, click on the picture to the right.
Less common were the
"hacienda church" versions. So-called "hacienda" buildings tended to use richer color splotches on the buildings themselves, including purple, indigo, bright orange, and deep rose. The hacienda churches had stained-glass windows that were closer to primary colors. The ones I've seen had either dark gold printed or black hand-drawn frames. Both types are represented in our downloadable graphics to the right.
One very rare example appears in the bottom row of our published graphic. The alternating windows with the extra yellow panel have only been spotted once, in a church owned by Tom Hull. A photo of that church, with our replacement windows already installed in the middle appears at the left. Part of Tom's restoration is described in this forum, although we haven't seen a photo with the alternating windows yet.
Since Tom showed us the photos of his damaged church, we created the windows he needed to fix it, and now we're offering them to you as well. Click on the graphic above right to download the hacienda church windows.
Printed (Paper) Doors (left) - These are high-resolution original reconstructions of vintage paper doors that were used on many houses, even houses that had cellophane windows. For best results, print with a color laser printer on acid-free paper.
Stick-On (Candy Box) Doors (right) - Before 1928, almost all Japanese cardboard Christmas (putz) houses were candy boxes. Instead of gluing doors into openings so light could shine through them, the doors were glued right to the wall. More often than not, the "windows" were just the same door graphics cut up into different shapes, depending on whether they needed a 4-pane window or a six-pane window.
In most cases, only the tiny version of the doors were used, but we provided the big version in case you needed it. Because these were glued on from the outside and not the inside, the margins around them are small. If you want to insert one of these into an opening, be sure to cut it out so that there is extra material around it.
Bank Windows - The pattern on the right was used on some candy boxes that looked like banks or other businesses. We have restored them because some putz house crafters use them on "skyscrapers" and the like.
Clock Face - Many of the most dramatic putz houses included a clock tower, which nearly always held the same clock face. Putz house builders and restorers often start with a clock graphic like the one in this resource, then stain it with weak tea to get an aged effect. We're saving you a step here. We recommend that you print this graphic on acid-free paper or vellum, but if you don't want a "pure" or bright white base, we offer six different "tea stain"-colored backgrounds, so you can achieve a weathered look without wasting a teabag.
We also offer two reduced sizes - these are not authentic, but you may find them helpful if you do mini-putz buildings.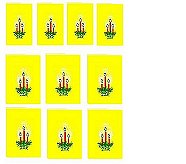 Window Candle Graphic (right) - Represents a glowing trio of candles in a lit window, courtesy of Howard Lamey's LittleGlitterhouses.com. Originally from Howard's Bay Window House project.
Dolly House Windows - These are a category all of their own. The Dolly Toy Company, of Tipp City, Ohio, made cardboard books, pull toys, nursery wall decorations and many other products. When Japanese putz houses became unavailable in the 1940s and 1950s, Dolly Toy Co. filled in the gap with their own line of cardboard houses. Many of them had printed walls but all the ones I've seen so far had printed paper windows. CardboardChristmas forum member Lynn recreated several of these for her own projects, then shared them with the rest of the community.
Howard hints that when you cut these out, you should leave a good margin around them for gluing them in place. I recommend acid-free paper. To download a printable pdf of either graphic below, right click on the graphic and select "save target as," or whatever terminology your browser uses.